iPad Mini 4 Repairs
iPad Mini 4 Repairs in Melbourne
Model A1538 – A1550
iPad Mini 4 Screen Repair - Glass only / Touch Digitizer
$175         Duration 1-2 days
iPad Mini 4 Screen and LCD Repair
$275          Duration 1-2 days
iPad Mini 4 Home Button Repair
$225     duration 2 – 4 days
iPad Mini 4 Charger Port
$225     Duration 2-4 days
iPad Mini 4 Battery Replacement
$125    Duration: 1 – 2 days
iPad Mini 4 HeadPhone Jack Repair
iPad Mini 4 Loud / Bottom Repair
iPad Mini 4 Top / Ear Speaker
iPad Mini 4 Microphone Repair
iPad Mini 4 Power / Volume Button
$225    Duration 2-4 days
iPad Mini 4 Back / Rear Camera
$225     Duration 2-4 hours
iPad Mini 4 Glass for Back Camera
$75     Duration: 1-2 hours
iPad Mini 4 WiFi - Bluetooth Connection
$275     Duration: 2-4 hours
iPad Mini 4 Back Housing Replacement
iPad Mini 4 Liquid Damaged Service
$Free Quote     Duration: 1 day
iPad Mini 4 Insurance Quote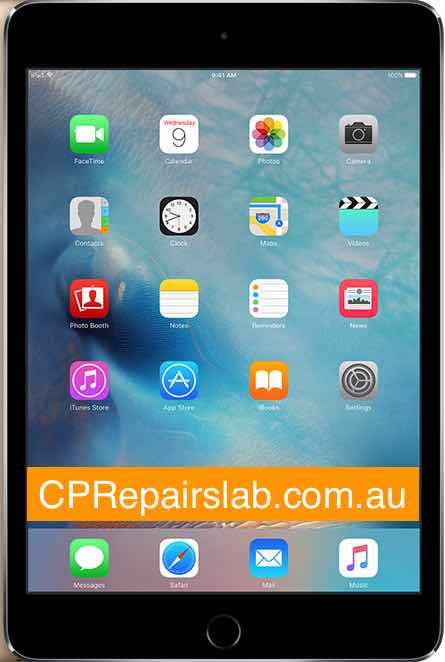 iPad Mini 4 Repairs
We can fix your iPad mini 4 screen on spot – 2-4 hour turn around
iPad mini 4  Screen Repair

iPad mini 4 Battery Replacement

Charging Port Issue Repair

Front Camera Issue Repair

Back Camera Issue Repair

Earpiece Speaker Issue Repair

Headphone Jack Issue Repair

Loud Speaker Issue Repair

Power Button Issue Repair

Volume Button Issue Repair

Back Glass Replacement
iPad mini 4 Repairs Appointments:
Walk-in customers are always welcome, our shop at 4 Crossley Street -CBD 3000 – Behind Pellegrini's Bar. Come and have a chat with us whilst we fix your phone.
Advantage of Appointment
Some particular model may not have spare-part available right away

Pre-inspect your device and do quick trouble-shoot

Allocate right technician for your device
iPad Repair Warranty:
We offer a standard 90 days warranty on most repairs. Sometimes repairs done on your device may not be up to your standard. Please let us know if any problem occurs, we are always happy to attend to it in a timely manner and make it right. However, this warranty does not include a device which has any evidence of physical / impact damage, liquid damage and other human-caused damages
iPad mini 4 Mail-in Repair Service @ CPRepairsLab
Have no time to drop off your phone, send it to us. We will diagnose / troubleshoot your iPad 8th Gen . Send you a quote upon repair and then express it back to yours doorstep.
Mail To : CPRepairsLab – 4 Crossley Street – Melbourne- 3000
How to Care for your iPad
From a protection point of view, Ipad mini 4 can easily carry around however if you have padded case it would be great to use one
Using Right Wall Charger : the iPad mini 4 required at least 12W wall charger, using anything less power will damaged your iPad.
Extend your iPad Battery Life: Never let your battery running too low (under 20%) It will really shorten your battery life quicker
According to Apple the iPad mini 4 capable of 10 hours running with