Computer Repairs in Melbourne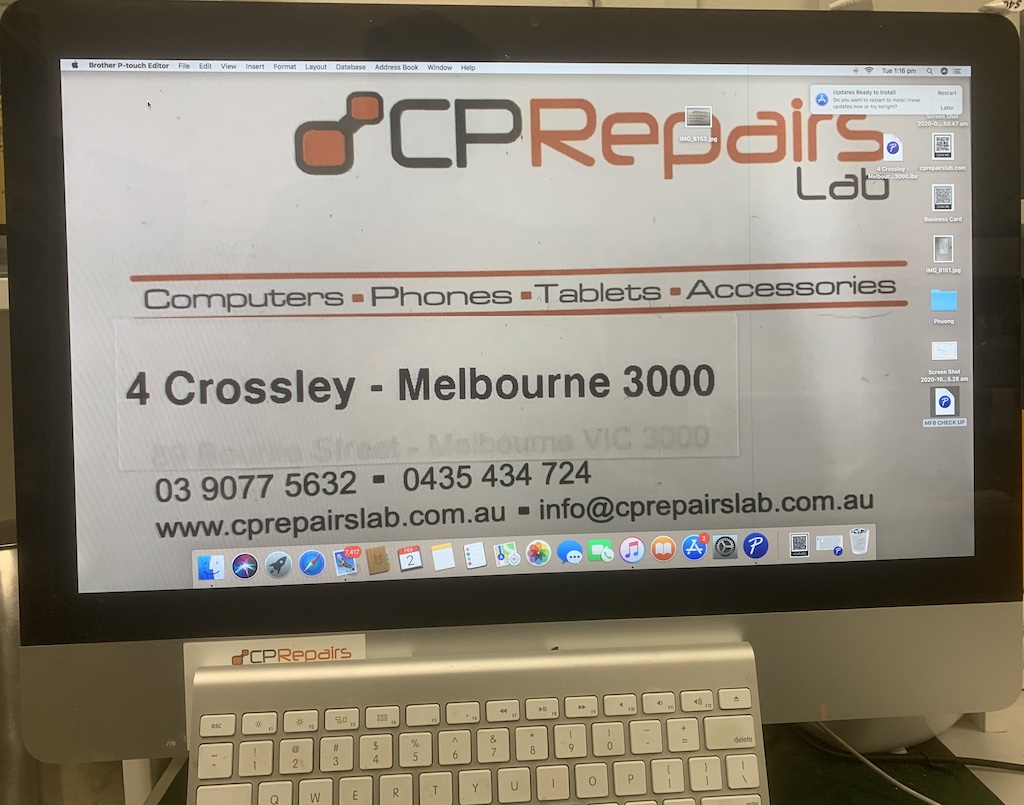 Computer Repairs and Service in Melbourne
Most Requested Computer Repairs in Melbourne
10 of most requested computer repairs in Melbourne
Cracked Screen
Blue Screen
Solving a virus infection
Computer overheating
Computer shutdown randomly
Computer is slow
Noises from the computer
Computer freezes and locks
Software does not work
Internet connection problem
Are you close to us – Computer Repairs in Melbourne
Melbourne CBD, East Melbourne, Cremone, Richmond, Burnley, Abbotsford, Carlton, Carlton North, NorthCote , Fitzroy, Clifton Hill
South Melbourne, South Wharf, DockLand, West Melbourne, North Melbourne.
CPRepairsLab – Located at 4 Crossley Street- 0435434724. Tram 86 /96 stop Spring Street. Or Parliament Station – walk 1 minute
Laptop Repairs at CPRepairsLab – Popular Brand
Microsoft: Surface Pro – Surface Book, Surface X
Lenovo ThinkPad, Yoga, IdeaPad
Acer : Aspire, Swift, Spin, Travelmate, Predator, Helios
Dell : Latitude, Precision, Inspiron, XPS, AlienWare
HP: x360, Gaming Pavilion, Envy
Apple  MacBook Air, MacBook Pro, iMac
Asus : ZenBook, VivoBook, ChromeBook, ProArt Studio Book , ExpertBook
LG: Gram
MSI: Stealth, Leopard, Gaming, Titan
Samsung: Galaxy Book, Notebook 9, ChromeBook, NoteBook Flash, NoteBook Odyssey
What services that CPRepairsLab can do for you
General Troubleshooting
Virus Removal
LCD Screen replacement
Laptop Hard Drive replacement and upgrade
Laptop Charging port
Laptop Wifi repairs
Laptop Keyboard
Laptop Speaker
Laptop Logic Board Repairs
Laptop Data Recovery
Data Backup and Transfer
Email Set Up and so much more
Computer Repairs in Melbourne
Your  Laptop  device is fixed and repaired by an expert technician at CPRepairsLab . 
We repair your device with utmost care and always offer the best possible option that is available. All parts chosen will have highest quality and come with our 3 months standard warranty. 
Computer Repairs Features:
90 days  warranty on all repairs

In-house expert technician to troubleshoot iPad

Extra care for bend housing

Reasonable prices – best workmanship
Laptop Battery Replacement
Laptop  Battery replacement is the 2nd most common repair. Let our expert technician double check your battery life and make sure the new battery will give your laptop a new life.
Most of the Laptop battery replacement can be done in 15 minute – but let us do a full service for your new battery within 2 – 4 hours
Appointments:
Walk-in customers are always welcome, our shop at 4 Crossley Street -CBD 3000 – Behind Pellegrini's Bar. Come and have a chat with us whilst we fix your device.
Advantage of Appointment
Some particular device model may not have spare-part available right away

Pre-inspect your device and do quick trouble-shoot

Allocate right technician for your device
Warranty
We offer a standard 90 days warranty on most repairs. Sometimes repairs done on your device may not be up to your standard. Please let us know if any problem occurs, we are always happy to attend to it in a timely manner and make it right. However, this warranty does not include a device which has any evidence of physical / impact damage, liquid damage and other human-caused damages
After Repair Care.
CPRepairs Lab always cares for our customers, How to prevent the next fall at minimum impact.
talk to our friendly staff about getting a protective case or having a tempered glass for your front screen. 
Also if data is your main concern we always recommended when is the best time to back up your Laptop Phone  to the computer or using the On-the-go Samsung screenUSB to protect your priceless pictures 
Laptop Repairs Service – Mail-in Service
Have no time to drop off your device, send it to us. We will diagnose / troubleshoot your device,  send you a quote upon repair and then express it back to yours doorstep.
Computer Repairs in Melbourne
How to trouble-shoot and fix computer yourself – DIY section
Cracked / Broken Screen: Open your broken screen and get the right part number, check there is any part number / sticker that adheres to the original screen. These numbers will help you to find the right part number.
My Computer has a blue screen and Windows keeps trying to self-repair, it already took the whole day. Chances are we have a corrupt windows / broken hard drive. This is where we have to consider is there any valuable data that sit on the old hard drive, if there is nothing important we can try to proceed with reinstalling windows. If valuable information / data is still inside the hard drive the best chance is replacing the new hard drive and trying to retrieve valuable data from the old hard drive.
3.My Laptop runs very hot and sometimes makes cracking noises. Two possible problems that can happen. Dust builds up inside internal components and most likely it blocks the fan. Disassemble your computer and perform physical cleaning. You may try to apply new thermal paste to the CPU, it may reduce heat build-up and extend the CPU life
Second  problem may be the hard drive itself making click-clack noise, it is time to back up all information such as My Pictures, My Document and Desktop to external USB, hard drive. Save your valuable data before costly data retrieval may happen.
My Laptop has water damaged and does not turn on. Solutions: Do not try to turn on the computer, fully disassemble and locate the area where water gets through. Make sure the area is not rusty and no sign of burnout. If any sign of burnt out that means you need to find logic board repairer or buy a new computer.
My Computer is not holding any charge, as long as I pull out the AC adapter my computer shuts down.  Obviously the battery needs to be replaced. Usually if you use a MacBook they may have signs of " Battery Service" , any other brand we need to test with a new battery and make sure new battery working ok
My Laptop has a broken/ missing one key, what should I do?  Depend on model of the keyboard sometime we can just fix one key, but in general we have to replace the keyboard.
My Left Hinges / Right Hinges make crack noise whenever I close my laptop lid. This is actually a very serious problem since the laptop body has been damaged and it is unable to hold the weight of your screen ( Hinges screw missing , broken plastic that hold screen and body) best fix is find exact same computer and replace the broken part.
AC adapter / Wall Charger broken can you fix it. Our advice is just replace it with a new AC adapter, please make sure you get the right part number or same Voltage / wattage and the tips connect to the laptop. Bring your laptop along to test with the new Wall charger.